The Museum of Dead Words
Written and Performed by Dyalekt, Directed by Andrew J. Scoville
Curator, United States and Europe, 2017–Current
MC / Playwright/ Educator Dyalekt spent a year researching Internet comments to discover what words amplified conversations into fights Online. The result is the Museum of Dead Words, a one-man show and rap album that explores communication in the age of the Internet through interactive theatre, music, art, and installation. As guests are guided through a linguistic deconstruction of the museum's 11 words, they are invited to investigate how conversations breakdown when exchanged instantaneously without context or physical interaction. Dyalekt's intricate weaving of etymology and satire with rhythm and tone creates an intimate hip hop theatre experience unlike any other. We welcome you to take a tour of the Museum of Dead Words, and hope to inspire empathy and reclaim genuine human connection, making way for better understanding of one another's culture, language, and experience as we navigate life Online.
Art Apple NYC in Brooklyn, NY
Featuring Visual Artists Clockwork CROS, Kai Barreda, the brokeMC, Abby Walsh, Kristen Crouch, Dyalekt, Warner King Washington II, and Maggie Muldoon
Featuring Mixes of Original Songs by Sid Suna, Willie Green, the brokeMC, Sean Spada & Cherch, Zaquan, Magnit Hands, Shane McConnell, and Joe Drymala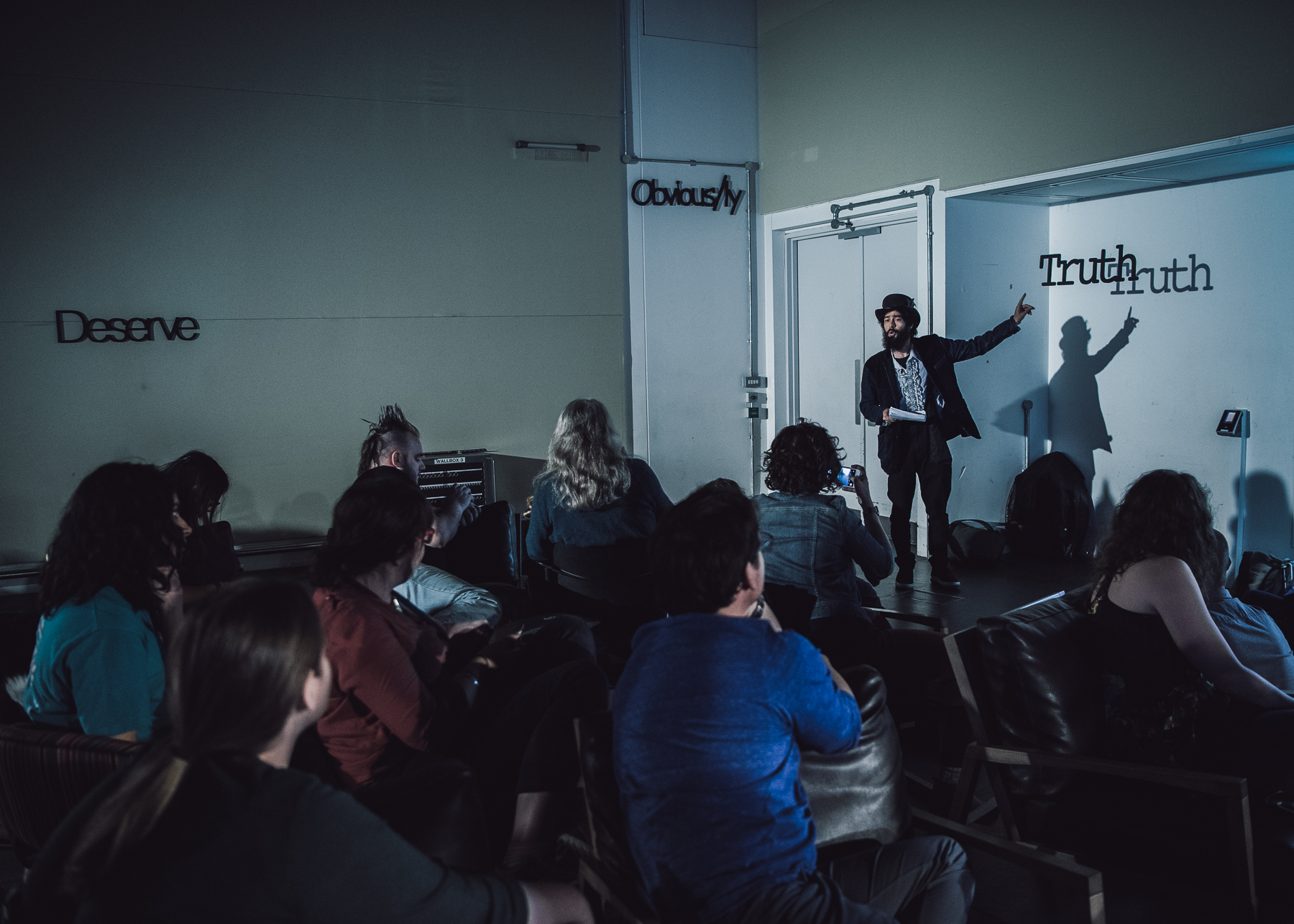 Mozilla Festival, Ravensbourne College in London, UK
Wabi Sabi Warehouse, Wilmington, NC
The word "hypocrite" is etched onto wall of Wabi Sabi Warehouse, atypically bare considering this is supposed to be an art exhibit. A cursory glance around the warehouse reveals other words similarly imprinted across the interior. "Racism," "bias" and eight other seemingly mundane words that proliferate newspapers, blogs, Facebook posts, and Youtube comments make up the display of "The Museum of Dead Words." With the entrance of the tour guide come emcee, Dyalekt—a sharply dressed man with a markedly articulate flair about him—it becomes evident that this is no mere exhibit, but rather a linguistic eulogy for words that have died in our contemporary parlance.
PRESS:
New York Theater: The Museum of Dead Words Review: Racism and Sexism and Normal are Dead, This Rapper Says, Jonathan Mandell
Medium.com: Spotify takes down Museum of Dead Words album because it's doing "abnormally" well, Dyalekt
AM New York: Museum of Dead Words 'lays to rest' harmful words through hip-hop and art, Shaye Weaver
Voice Mag: 11 words died on the internet and what happened next is shocking, Tom Inniss
WECT News: The 11 words on the internet that turn conversations into fights, Ben Smart
Encore Magazine: EPISTOLARY EPIGRAPHS: Brooklyn-based rapper Dyalekt explores the misuse of language through theatrical hip-hop at Wabi Sabi Warehouse, James McCrea
WHQR: Communique: "Museum of Dead Words" In Wabi Sabi Warehouse Friday & Saturday, Gina Gambony